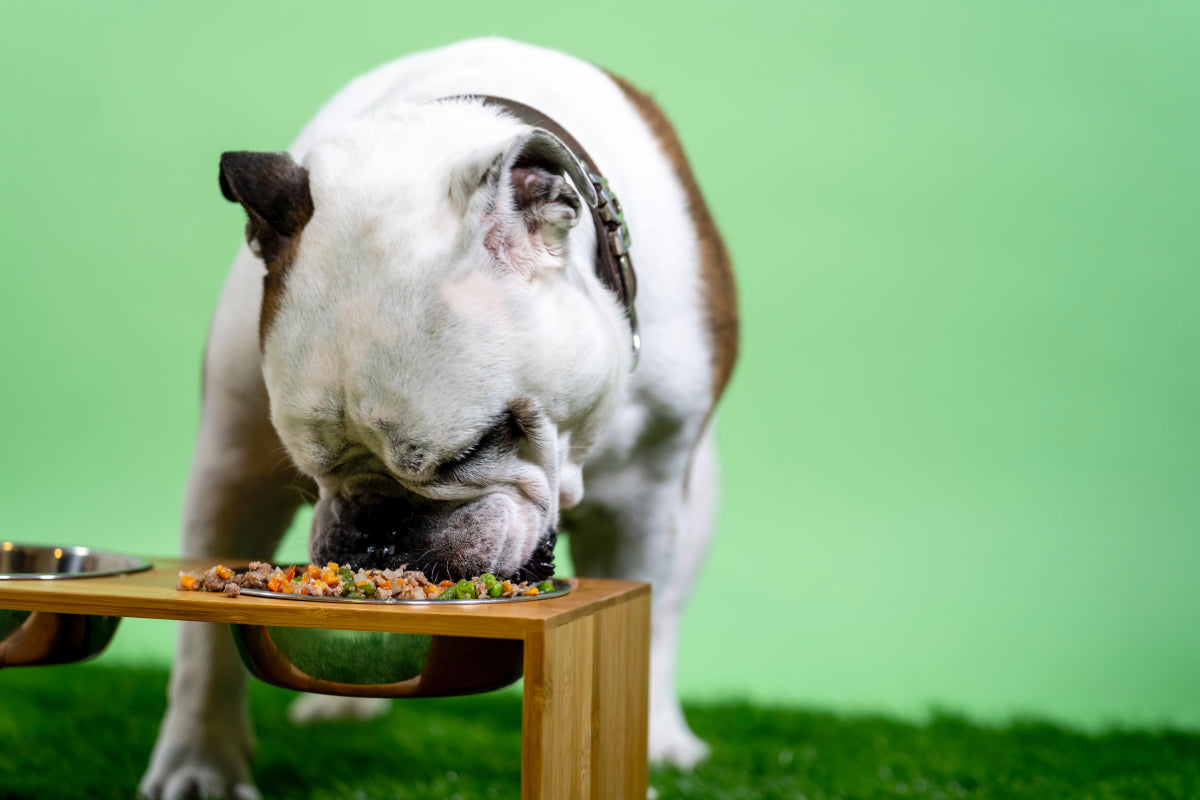 December 08, 2021
How Much Food Should My Dog Eat?
Much like people, there are eat-to-live and live-to-eat dogs. Keeping eat-to-live dogs healthy (and at a healthy weight) is relatively straightforward, especially if they're already active dogs. But a live-to-eat dog needs a bit of diet management.
Of course, it's not just the art of making sure your dog's food is healthy. You also have to make sure they're eating the right amount of it. 
If you're scratching your head wondering how much food should my dog eat, you're in luck. We did the research so that you don't have to. Here's a quick and easy guide to healthy dog food and the proper care and feeding of your pup. 
THE BASICS OF YOUR DOG'S DIET
No matter the amount, you need to make sure your dog's food maximizes health benefits. 
A dog is a member of the scientific order Carnivora, which is a large group of mammals with a similar tooth structure. Dietary needs range from obligate carnivores (like cats) to mammals who can meet dietary needs through plant matter, with omnivores (like humans) in the middle. Dogs, like their favorite humans, are omnivores. 
Because of this, healthy dogs will consume a balanced diet just like their humans, consisting of six essential nutrients: 
Water
Protein
Fat
Carbohydrates
Vitamins
Minerals
The source of these nutrients doesn't matter as much as the quality and digestibility. Dogs have evolved to use protein and fat as their primary energy sources, but they also need the other four nutrients for other bodily functions. 
HOW TO CHOOSE THE BEST PET FOOD FOR YOUR DOG'S HEALTH
Choosing the right food for your dog is all about knowing your dog's unique features.
For example, in much the same way that babies have different dietary needs than adults, a puppy has different dietary needs than an adult dog. Similarly, small dogs have different feeding requirements than large dogs, since they use energy differently. 
No matter the food, there are three rules to keep in mind. 
First, you should give your dog the highest quality dog food you can afford. Like with humans, fresh food will always be a more natural and easier to digest source of nutrients than packaged, highly processed foods like kibble.
Second, read the food label carefully--not just the percentages, but the ingredients. The quality of the dog food shows through in the quality of the ingredients. Two dog foods may both have 25% of your dog's daily value of protein, but their protein sources may be night and day in terms of quality and digestibility. If in doubt, look for dog foods with ingredients you can recognize. For example, if the majority of the protein is derived from meat sources, that will be a much healthier food for your pup than one where the protein is mainly derived from legumes. This is because meat has higher levels of more essential amino acids than plants do, and amino acids generate energy, build and repair cells and muscles, and create hormones and enzymes.
Third, look at the order of ingredients. Dog food labels list ingredients in order of weight. So if the first ingredient on the list is filler such as potato starch, unpronounceable, or both, take your business elsewhere. 
FEEDING SUGGESTIONS: MEASURING YOUR DOG'S INTAKE
With that in mind, you can start to think about how much food to feed your dog. Again, this depends on the dog's weight and age. It may also vary based on your dog's activity level, overall metabolism, and any other preexisting health issues. Make sure to talk to your vet about any health conditions that may change how much you should feed your dog. 
Overall, though, here's a quick breakdown of how much food to feed your dog, broken up by overall age.
THE RIGHT AMOUNT OF DOG FOOD FOR PUPPIES
According to the American Kennel Club, you should watch the dog, not the dish. This is especially important for puppies, since their most recent food memories involve fighting with the litter for mom's milk. Also, it takes a lot of energy to do all that growing, so your puppy is genuinely excited for dinnertime. 
In general, puppies should be fed three times per day. Like an adult, their feeding guide is based on their body weight or body condition, but they need small, more frequent meals throughout the day. Depending on the puppy, they may eat up to four times per day, totaling two to three times the adult amount. 
THE RIGHT AMOUNT OF DOG FOOD FOR ADULT DOGS
In general, adult dogs should be fed twice per day, but this depends on the type of food and its nutrition contents, as well as the dog's activity level, metabolism, and age. With a nutrition-rich food such as A Pup Above, we've developed the following guidelines, which are based on adult maintenance guidelines established by AAFCO.:
While most feeding guidelines will advise using a standard measuring cup to measure out dog food, a more accurate way to portion out your dog's food is to weigh it, since the amount of food you can pack into a cup varies a lot.
Depending on your dog's personality, your dog's own eating habits may decide when enough is enough without any interference from you. Again, keep in mind that your dog's unique traits will determine their food intake. If you're ever unsure, consult your vet. 
To learn more about specifically feeding your dog A Pup Above, check out our feeding guidelines here.
The RIGHT AMOUNT OF DOG FOOD FOR SENIOR DOGS
Just like with puppies, the right amount of food for senior dogs will depend on their individual health and activity levels. Senior dogs need fewer calories per day than adults, so you should cut back about 25% from your adult dog's daily caloric intake. You can also adjust portion sizes accordingly, as your pup will gain less energy from the same amount of food.
If your senior pup has any weight or health issues, speak to the vet about additional dietary requirements. And don't forget: no matter how old your dog is, they still need some exercise and playtime! They may not have as much energy for it, but it's still important for their overall well-being. 
HOW TO SET A FEEDING SCHEDULE
When it comes to feeding your pup, consistency is key. You want to establish regular feeding times, so pick a time frame that works with your schedule and stick to it. This will help their digestion, metabolism, and overall mood. 
Most veterinarians recommend twice-daily feedings for adult dogs and up to four meals per day for puppies. And while it's not impossible to free-feed your pets, it's not recommended. Too much freedom may lead to over-eating or under-eating, depending on the dog's individual needs. 
Finally, if your pup is begging for food at the table or elsewhere in the house, don't give in! This only reinforces their bad behavior and encourages them to beg more. 
Plus, sneaking them scraps may be dangerous since some human foods are toxic to dogs. Instead, give your pup a treat specifically for good behavior — this will reinforce the right behavior and help them learn proper doggie manners. 
Ultimately, it's important to remember that every dog is different. It's up to you to figure out how much food your pup needs and to adjust their diet as necessary. 
Keep an eye on their weight, energy levels, and overall vitality — these will let you know if they're getting the right amount of food for their individual needs. And remember to consult your vet if you have any questions. 
TIPS TO CREATE A RESPONSIBLE DOG DIET
Creating a responsible dog diet involves considering various factors to ensure your furry friend receives the nutrition they need. Here are some tips to help you establish a responsible and balanced diet for your dog:
CONSULT WITH A VETERINARIAN
Before making any significant changes to your dog's diet, consult with a veterinarian. They can provide valuable insights and recommend the appropriate diet based on your dog's breed (large breed vs. small breed), age, size, activity level, and any specific health considerations.
CHOOSE HIGH-QUALITY DOG FOOD
Opt for high-qualitydog food — like A Pup Above — that meets the nutritional requirements established by reputable organizations like the Association of American Feed Control Officials (AAFCO). 
Look for food that lists quality protein sources as the primary ingredients and avoids artificial additives, fillers, and by-products.
CONSIDER LIFE STAGES
Dogs have different nutritional needs at different stages of their lives. Choose a dog food formula specifically designed for puppies, adult dogs, or senior dogs to provide the right balance of nutrients for their age group.
PORTION CONTROL
Avoid overfeeding your dog, as obesity can lead to various health issues. Follow the feeding guidelines provided on the dog food packaging based on your dog's weight and adjust portions accordingly. Measuring your dog's food by weight rather than volume can provide a more accurate measurement.
REGULAR EXERCISE
A responsible diet goes hand in hand with regular exercise. Engage your dog in physical activities suitable for their breed and age to maintain a healthy weight and promote overall fitness.
HEALTHY, ALL NATURAL DOG FOOD THAT YOU AND YOUR DOG WILL ADORE
Figuring out how much food to feed your dog each day doesn't have to be rocket science. It all begins with the right food--better still, high quality food that takes care of the nutritional science so that you don't have to. 
At A Pup Above, we believe in feeding dogs just as healthy as their beloved humans. That's why we pack our foods with non-GMO veggies, all natural meat with no added antibiotics or growth hormones, and, of course, lots of healthy meat protein (11 grams per serving). 
Ready to give your dog a meal you'll both love? Check out our dog food selection to get started.
Source: