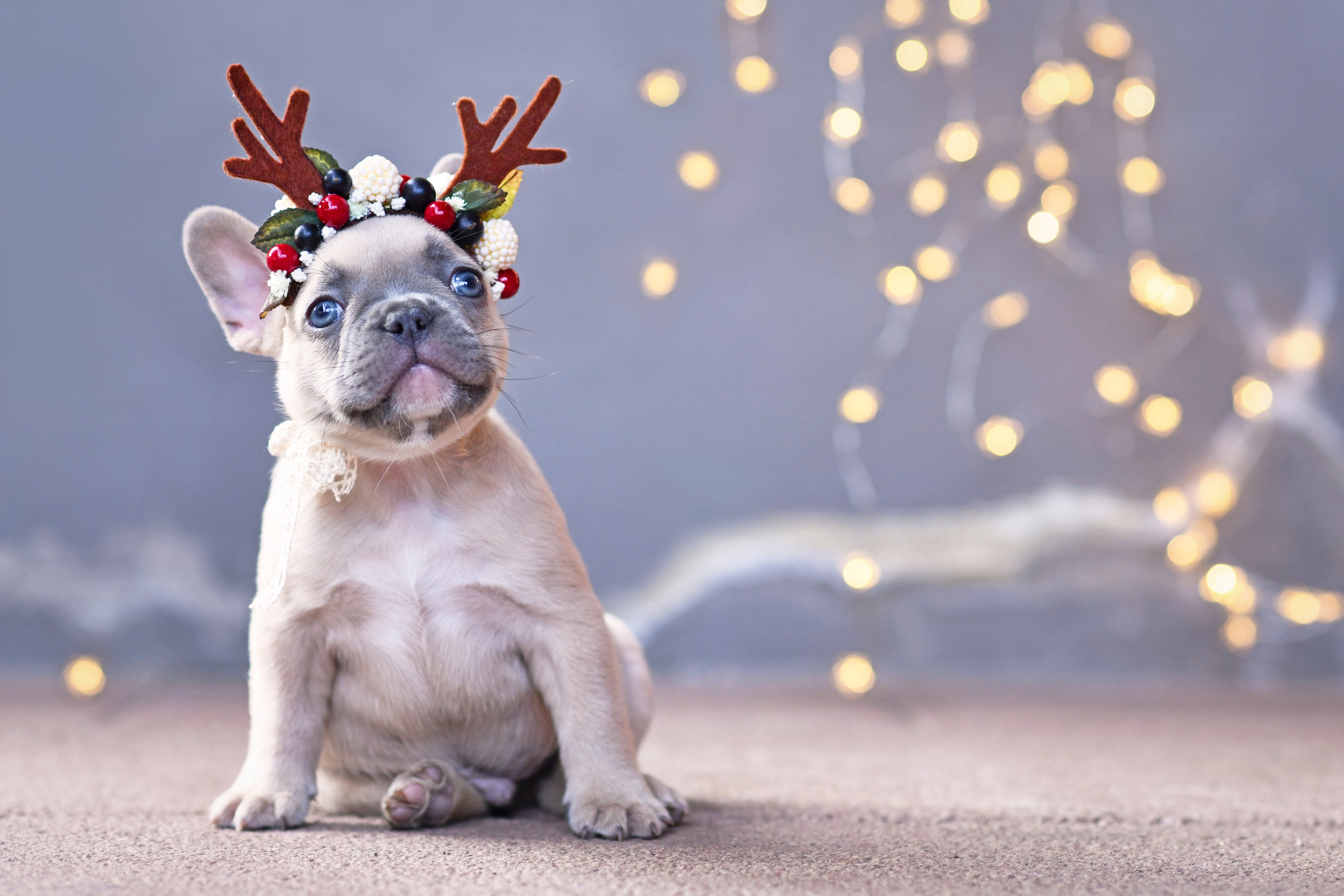 November 02, 2021
Holiday Gift Guide for Dog Lovers
The holiday season is right around the corner, which means it's time to start thinking about gifts for your favorite four-legged friend--and your favorite dog-loving human, of course! Here are some of the best gift ideas for pets and pet-lovers alike. 
Best Gifts for Dog Lovers (and Dogs Too)
Whether you're looking for a practical gift, a funny gift, or a bit of both, here's a review of some of our favorite dog-related gifts this holiday season. The first few are gifts for the star of the show (the dog, of course) and then there are a few gifts for your favorite dog lover. 
Portable Water Bowl
On those days when only a long walk in the sun will do, dogs need water just as much as their humans. The challenge, of course, is that dogs can't drink from a water bottle. 

Now, with this portable water bowl, you never need to worry about a pup going thirsty. There are tons of options out there, but we're fans of the kind that can collapse on themselves and clip to your dog's collar or harness. 
BarkBox Subscription
A BarkBox subscription is the gift that keeps on giving--literally! It's a subscription box designed just for dogs so that you can keep surprising your beloved pet with something new each month. 
There are lots of pet subscription boxes out there, but BarkBox remains a fun one because they do themed boxes each month. Past themes include cheeky ideas like Muttcracker (with goodies like a wearable Santa hat and cranberry cookies). But no matter the theme, every box has two innovative toys, two all-natural dog treats, and a dog chew. 
Whistle Go Explore Dog GPS Tracker
The Whistle Go Explore dog GPS tracker is perfect for your veteran escape artist. If your dog leaves their designated safe space, the tracker immediately alerts you via text, email, or through the app. It uses cellular, Wi-Fi, and GPS technology so that you can track your dog's exact location and get them home safe. 

Oh, and if you have a river or lake by your house, no worries. This tracker is waterproof and has a battery life of up to seven days. 
Texas Beef Stew Dog Food
If you have a discerning foodie on your hands (er, paws) this Texas Beef Stew is sure to leave them hungry for more. 

This dog food is packed with the big, bold flavors of the Lone Star state, along with hearty protein, non-GMO vegetables, and superfoods like turmeric, thyme, and parsley. Your pup will think they're getting dog treats, but you'll never have to feel guilty about giving it to them. 

There are two things it doesn't have: fillers and grains. Just nutritiousness and deliciousness. 
Pet-Friendly Calathea Rattlesnake
For those who love dogs and plants but don't really love the havoc dogs can wreak on plants, this pet-friendly calathea rattlesnake plant from The Sill is a striking addition to the household. It thrives in low light, comes in a variety of planter colors, and best of all, it won't do any harm to your curious pet. 
Cujo
Nothing says happy holidays like that classic tale of a murderous psycho dog. Yes, we're talking about Cujo, that timeless Stephen King horror-thriller about a Saint Bernard who chases a rabbit into a bolthole and gets bitten by some very sick bats. 

This one is great for a gag gift, those who love to curl up with their dog and devour a scary book, or maybe, possibly, a gift to the mother-in-law who has uncomplimentary opinions about your friend's dogs (as a wink-wink-nudge-nudge between you and your favorite dog lover, of course). 
Dog-Themed Coffee Mug
Some mornings are just ruff (see what we did there?) but coffee can help you get through it. Give your favorite dog lover something to smile over (besides coffee and their dog) with a dog-themed coffee mug. 
For those who are willing to splurge on coffee and dog-themed bundles, the Sip & Squeak Coffee and Toy bundle from Grounds & Hounds is a great gift. It includes a mug for your dog lover, a toy mug for their dog, and best of all, fresh coffee. Plus, they donate 20% of their proceeds to no-kill shelters. 
Bird Dog Small Batch Kentucky Bourbon Whiskey
At the end of a long day in the wilderness, a long day at work, or just a longer walk than usual, nothing quite beats a great bottle of bourbon. 
This Bird Dog whiskey offers a lovable dog on the label, plus a deep oak aroma, rich caramelized wood sugar with notes of golden raisins, and an approachable, smooth finish. It's a great match for the Treeing Walker Coonhound on the label, a loyal hunting dog known for its boldness and courage. 
And for a whiskey lover with a beloved hound companion, this is the perfect holiday gift. Just make sure to check what state Reserve Bar has it available--it can ship to 27 states and DC. 
Give a Dog Lover the Best Gift: a Gift for Their Beloved Pup
We hope you'll get to spend this holiday season as it was meant to be spent--curled up with your beloved dog. And if you want your dog to feel like they're eating Christmas dinner all year round, give them a dog food that's fully transparent from farm to bowl. 
Our dog food packs 72% more protein on average than other fresh food brands, and we only use human-grade ingredients. Your dog will feel like they're getting a treat, but you'll always be able to give them dinner knowing they're eating a healthy meal. 
So if you're ready to give your dog the gift of great nutrition and great taste, make sure to check out our available dog foods in time for the holiday season.