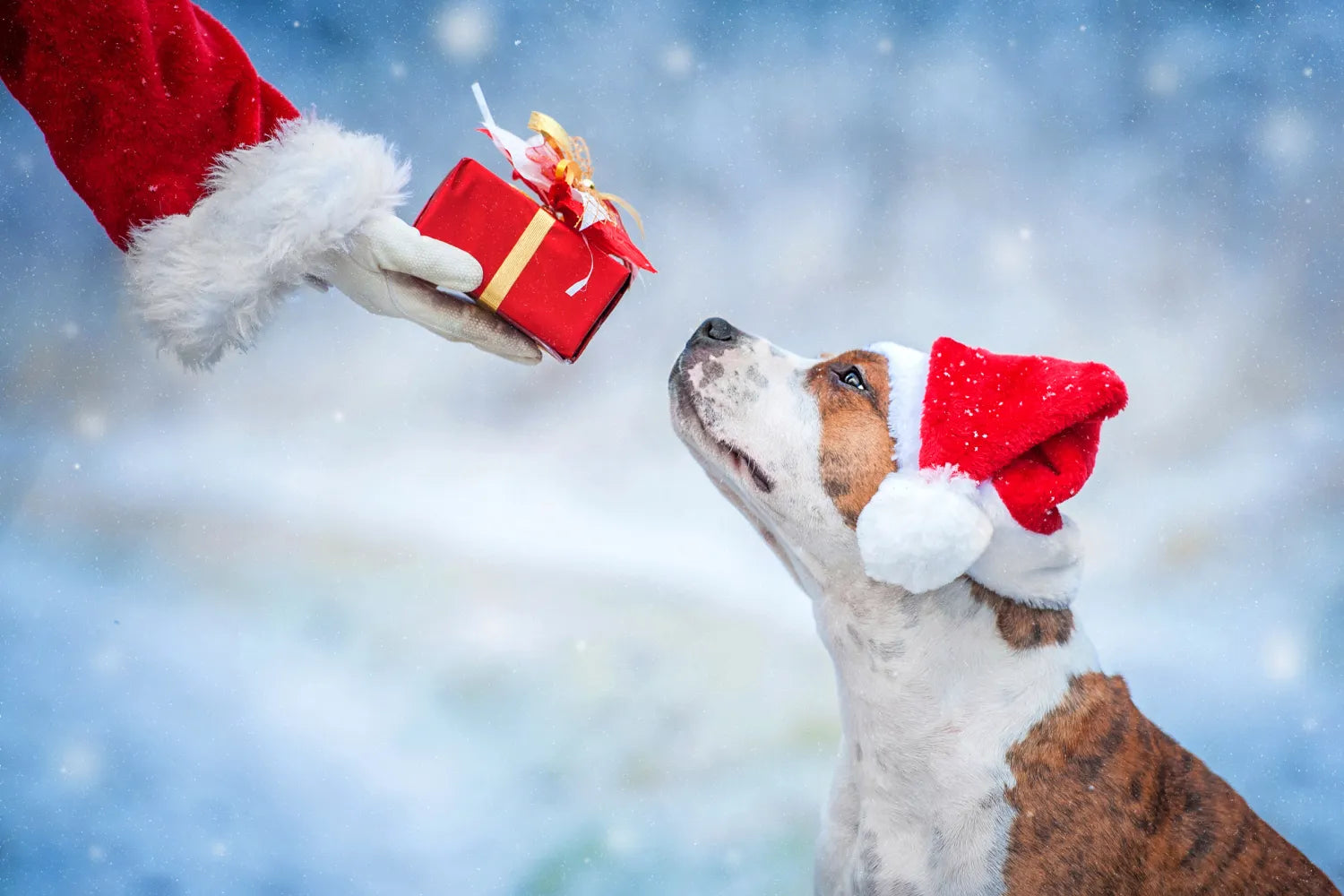 October 30, 2023
Dog Gifts for Christmas: 16 Ideas for Your Fur Family Member
With the sparkling lights of the holiday season illuminating our homes and hearts, the spirit of giving envelops us in a warm embrace. It's that delightful time of year where the air is crisper, cookies are baking, and joyous tails are wagging in eager anticipation of festive celebrations! 
With their boundless love and playful antics, our dogs deserve a spot on our gift lists, don't they? As we explore heartwarming and nourishing gift ideas for your pups, let's take this journey of mindful gifting together, ensuring our canine companions receive our love and gifts that cater to their well-being and merry spirits.
What Are Good Dog Treats for Gifts? 
A delectable journey awaits as we explore culinary delights to fill our pups' holiday season with flavorful joy. Let's embark upon a festive, yet nutritious, adventure through gourmet dog food and treats that aren't merely gifts but expressions of our love and mindful care.
1. Exquisite Sous-Vide Meals
A Pup Above's sous-vide dog meals combine indulgence with nutrition, offering a delicious and healthy gourmet experience. It's a culinary adventure, ensuring each bite is a festive, nourishing delight. This thoughtfully crafted gift embarks your pup on a flavorful journey this holiday season.
2. Custom Doggie Treat Baskets
Share a custom doggie treat basket, artfully curating a variety of gourmet treats, from nutritious biscuits to safe chews. Customize it to fit your favorite pup's preferences, and to highlight all different types of treats for them to enjoy! 
3. Gourmet Food Subscription Service
Gift a subscription service of a continuous bounty of gourmet dog meals, turning a seasonal present into a year-round culinary journey for your pup. Ensure that chosen brands echo A Pup Above's dedication to nutrient-rich, high-quality meals, guaranteeing that your pet's regular dining is consistently delightful and nourishing.
4. Special Occasion Doggie Cakes
Celebrate the festive season with specially crafted doggie cakes, ensuring each bite is a splendid and safe indulgence for your pet. Prioritize using nutritious, pet-friendly ingredients and diligently ensure the cake is free of harmful substances like xylitol, while maintaining a staunch commitment to a wholesome and healthful dietary ethos.
5. Nutritional Snack Packs
How about a creatively curated snack pack? Pack an array of nutritious snacks to ensure each bite sings a melody of flavor and health for your pup. 
Mindfully select items that are not only delectable but also beneficial, perhaps incorporating treats that promote wellness, like joint-supporting snacks or dental chews.
What Dog Toys and Activities Are Good Gifts?
Infuse your furry friend's holiday with joy by exploring the world of toys and activities made just for them. Dive into a universe where each toy and activity is not merely a source of entertainment, but a bridge to enhanced mental stimulation, physical activity, and boundless merriment.
6. Interactive Enrichment Toys
Interactive enrichment toys bring lively, engaging playtime, stimulating both physical and mental faculties to enthrall your pup in multifaceted amusement. Enrichment toys provide a dynamic balance of joy and well-being through mental stimulation and physical activity.
These toys adeptly mirror an ethos of blending happiness and health, ensuring playtime is always beneficially vibrant.
7. A Tail-Wagging Day Out
Gift a tail-wagging day out, an experience that transcends tangible gifts by exploring trails or enjoying a friendly pup gathering, offering your dog a cascade of exciting new adventures. This immersive present isn't just a day's activity. It's a wholesome expression of love, creating cherished memories and experiences that will linger in both your hearts.
8. The Pup Spa Experience
Immerse your pup in a delightful spa experience, a day dedicated to warm baths, gentle massages, and perhaps a snazzy new haircut, providing aesthetic grooming and a cascade of pampering that speaks volumes of your appreciation and love. 
This thoughtfully chosen pampering session ensures they feel thoroughly cherished, reflecting the daily joy they bring into our lives.
9. Personalized Playthings
Elevate the joy of gifting with personalized playthings — toys, accessories, or bedding specially customized with their name or a personal touch. These enhance the play and rest and stand as a symbol of the unique bond shared
What Health and Wellness Gifts Are Good for Dogs?
Explore an array of health and wellness gifts, ensuring each item chosen is a testament to a life of vitality, playful zest, and sustained happiness throughout all their cherished days.
10. Nutritional Boosters
Elevate your pup's daily diet with high-quality nutritional boosters. Make sure each supplement is a conscientious choice that serves as a commitment to their immediate and future wellness, seamlessly blending immediate joy with an enduring promise of healthful living.
11. Therapeutic Wellness Products
Opt for therapeutic wellness products, like orthopedic beds or calming aromatherapy items, that tenderly cater to your pup's physical and mental wellbeing. These mindfully selected products can support a sense of calm, ensuring your furry friend enjoys peaceful, restful moments amidst their playful days.
12. A Grooming Goodie Bag
Present a grooming goodie bag, combining essentials like gentle shampoos, soft brushes, and fragrant dog cologne. This thoughtful ensemble ensures your pup's coat radiates splendor and vibrancy and shows a level of care that reaches beyond mere aesthetics.
13. Insurance and Wellness Plans
Offer a gift that offers protection and care through each stage of their life, symbolizing a perpetual commitment to their wellness. This thoughtful gesture ensures that their health and vibrancy are unwaveringly safeguarded.
What Stylish Gifts Should I Gift My Pup?
Embrace the festive spirit by gifting your furry friend with stylish and comfortable presents that elevate their adorable charm and cocoon them in cozy warmth during the chilly season. Explore an array of gifts that intertwine fashion and comfort, ensuring your pup struts into the celebrations with both a twinkle in their eyes and a soft, snuggly embrace.
14. Cozy Canine Attire
Gift your pup snuggly sweaters or durable coats that marry festive flair with comforting warmth. This thoughtful apparel ensures they parade in style and are tenderly shielded from the crisp winter winds, wrapping them in cozy warmth.
15. Cute Accessories
Enhance your pup's daily style with accessories, including elegant collars, playful bandanas, and personalized tags. These accessories not only complement their coat but also mirror their spirited personality, ensuring they radiate charm and charisma, both inside and out.
16. Luxurious Bedding
Choose cozy bedding that transcends being just a resting place, transforming into snug sanctuaries every night. This daily reminder of love ensures that every nap and nightly slumber is cradled in unrivaled comfort and a profound sense of security.
Gifted Love, Boundless Joy
The holiday season is here, bringing warmth and joy to our homes and our beloved dogs. As we exchange gifts, let's remember that these thoughtful ideas go beyond material things. They are tokens of love, care, and a desire to bring happiness to our furry friends' lives, just as they bring us joy every day.
A Pup Above shares this same philosophy by delivering care, quality, and unwavering enthusiasm in every product they offer. When selecting gifts for our canine family members, let's embrace this essence of limitless love and exceptional quality. 
By doing so, we can create a holiday season that is celebrated with joy and fondly remembered in the years to come.
Sources: 
Paws Off Xylitol; It's Dangerous for Dogs | FDA
What Nutrients are Essential for My Pet? | Cummins School of Veterinary Medicine - Tufts University
Pet Safe Essential Oils For Cats And Dogs | Forbes
Dog Grooming: How To Keep Your Pup's Coat Shiny | Thornton Vets