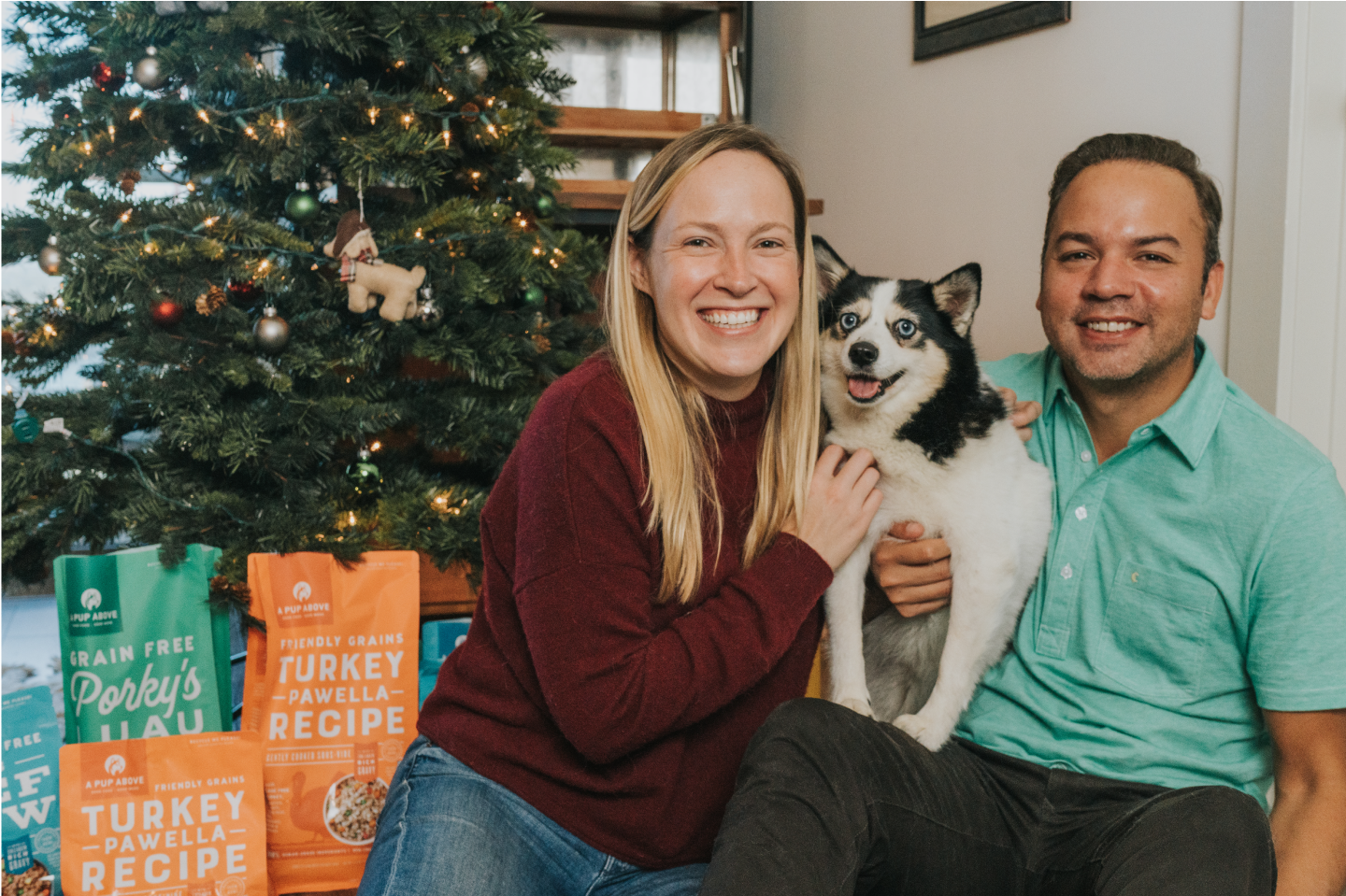 November 25, 2020
10 Great Gifts for the Dog Lover Who Has Everything
1. Your Dog, On A Pillow! [Or Socks, Or Mug]
These days you can get your mutt's mug on just about anything - shirts, socks, phone cases, bath towels, blankets and yes, mugs too!
It may not be the most unique gift for dog lovers, but let's face it, we adore our dogs. Which means many of us are overjoyed at the idea of having our dogs' faces on anything and everything!
Companies like Shutterfly and Lovimals offer a wide assortment of dog-on-object combinations. The best gift for your favorite dog lover is the gift your recipient would never expect - like their dog's face on a pillow or a pair of socks!
2. Dog DNA Kit
Ever since the start of the pandemic, adoptions have been on the rise, which means many new owners have a bundle of joy whose origins are completely unknown. To know is to love, so why not help a new dog owner get to know their pet with the gift of a doggie DNA test?
Embark is the best around, and they offer two options - the premium Breed + Health Kit, or the cheaper Breed Identification Kit that will showcase the dog's breeds but will leave out the advanced genetic health screenings that are included with the pricier kit.
With either kit, you get access to ultra-accurate info regarding the dog's ancestry as far back as their great grandparents! You'll learn common attributes of your pup's breeds, and where these breeds originated from.
But wait, there's more! What I think is most fun of all is that Embark will notify you of any DNA relatives that pop up in their database. Who knows? When you choose the gift of DNA for your dog lover friends, you may learn that their new rescue's siblings or cousins might reside in the next town over. Imagine the fun doggie play dates in store!
Embark also provides Look-A-Like matches, which will show you the photos of other Embark-tested dogs who have a very high DNA percentage similar to your own dog.
What's pretty remarkable is how different dogs with 90% similar DNA can look. Which just goes to show how unreliable visual identification for dog breeds is. Many owners are shocked with their dog's DNA results because sometimes their up looks nothing like the breeds that show up in the report. Make no mistake though - these dog DNA tests are accurate, it's simply the way that certain breed genes are recessive or not. 
3. A Pet Camera
While most of us are still bunkered down at home, there will come a time when we have to leave the house eventually - much to our dogs' displeasure.
For keeping tabs on your pup while you're away, consider gifting your favorite dog lover a dog camera!
There are several options on the market, but our favorite is the PetCube 2 Bites. 
The PetCube lets you monitor your dog with crisp 1080p HD and 160 degree wide angle so you can see your pup no matter where he is lounging. You also get access to great audio quality with a two-way microphone.
But our favorite thing about this camera is that it shoots out treats! Open the app and start flinging your pup goodies, swiping Angry Birds-style to adjust the treat flinging distance.
It's tons of fun and is a great gift for new dog owners to monitor their pooch when they're at work - especially if their pup is suffering from separation anxiety when the house is empty.
It also includes the option to set up auto-alerts that send a text when your dog is barking, and users can even have the PetCube automatically record videos and snapshots throughout the day whenever your dog is moving around. However, these auto-recording and alerts require a monthly subscription.
Read this full review on PetCube Bites 2 at K9 of Mine if you're curious to learn more!
4. A Dog Goodie Gift Box
One of the best gifts for dog lovers is the themed goodie box. BarkBox is probably the most famous dog goodie box of them all, but it's certainly not the only one. Dog goodie boxes are perfect for showering a beloved pup with a variety of treats and toys that will delight them all season long.
There are tons to choose from, but a few of our favorite gift box ideas for dog lovers are:
KONG Box [Best For Chewers]

. This box has some of the highest-quality toys we've seen, made with the ultra-tough KONG materials owners know and love. It's a bit pricier than other boxes, but considering you get a full-sized KONG toy in every box (along with others toys and treats), it's a great deal.

Box Dog [Best Customization].

This box allows you to hand pick each item, ensuring that you only get toys and treats that will work for your good boy - no danger of repeats!

Good Dox In a Box [Best For Training]

This

great gift for dog lovers

is an all-in-one training kit, complete with the famous Halti harness, KONG puzzle toys, a dental kit, a canine cookbook, activity kits, and more!
5. A Custom Portrait
If you're in the market for a truly special gift for a dog lover, a unique pet portrait can't be beat. There are dozens of incredible pet portrait artists on Etsy who can transform a standard dog photo into a true work of art.
While the options and styles are endless, one particularly fun option is to have a pet painted as an English Lord or Lady. Heck, you can even have your dog painted as a Star Wars character!
If you know a pet that already struts around like royalty, this gift idea is proof of their right to rule any dog owner's household!
6. Canine Activity Book
Binged Netflix to death? Can't bear to bake another loaf of banana bread? There's a new kind of activity book that is an ideal gift for the dog owners in your life who are ready to try something new!
The Chew This Journal takes inspiration from the wildly popular Wreck This Journal, but this one is for doggos!
Inside this unique gift for dog lovers are ideas for fun games and activities that will build the bond between dog and owner. Get access to fun doggo bucket list items like urban agility, as well as ideas for DIY treat puzzles, homemade tug toys, and even dog-friendly paw-painting crafts!
7. CBD Peanut Butter
CBD is all the rage these days, so why not let dogs join in on the fun? 
Many owners testify to the power of CBD in treating their dogs' joint pain and anxiety. If you need a gift for a dog owner whose pup freaks out at fireworks, consider starting them on a CBD regiment now to keep nerves calm on New Years Eve!
There are tons of dog CBD oils and treats on the market, but for something a bit different, we'd suggest trying CBD Peanut Butter!
Dogs love peanut butter, and there are a few providers now offering CBD-infused PB. We recommend CBD Peanut Butter from CBDMD or HonestPaws. Now you don't need to feel so guilty about giving your dog that scoop of peanut butter - it's doing him some good!
8. Dog Body Language Game
We love our dogs to death, but they speak a totally different language than us. That's mostly due to the fact that they don't speak at all! But make no mistake - they have plenty to say through dog body language.
Despite sharing our homes with canines, many of us are woefully illiterate in canine body language. This is a real shame because learning dog body language allows for improved communication between dogs and owners, and is great for building your bond.
Learning a bit of dog body language can also mean the difference between a serious bite and a close call. Despite what some might claim, no dog bites out of nowhere. We humans just don't always listen!
The Dog Bite Prevention Card Game is a great gift for dog lovers who take care of both dogs and kiddos. Play together as a family and teach children how to identify dog body cues that signal a dog needs some extra space! 
Not only is this a valuable skill to keep kids safe, but it's also a great exercise in empathy for our furry pals, who don't always want to be treated like a giant stuffed animal and would greatly appreciate being listened to now and then!
9. Roodie Pet Carrier Hoodie
This gift is for dog owners with petite pups who prefer to be carried everywhere they go. 
Unfortunately no one has a spare hand during the holidays, but with this hoodie, you won't need one!
The Roodie Pet Carrier Hoodie is a high-quality sweatshirt that you'd doubtlessly love cozying up in any day. But what makes it one-of-a-kind is that it has a built-in pouch for your small dog (or cat) to lounge in. 
Now you can carry your fur baby like a real baby, 'Bjorn style around your body all day long.
I bought these as a gift for one of my dog lover friends last year and I can testify to the quality of the materials and stitching. It's incredibly comfortable! If only my 60 lb dog could fit inside...
10. Hands-Free Dog Leash
If running is a favorite pastime of you or a fellow dog lover, consider the gift of a hands-free dog leash! Hands free leashes are great for cross-country canines who like to accompany their owners on jogs. 
Most hands-free leashes are composed of a bungee leash cord that connects to a waist strap which the owner wears. Not only does the bungee absorb shocks for a more comfortable jog, but it also teaches the dog some mushing skills if hooked up with an appropriate harness.
Who knows, maybe you know a pup and owner with a future in canicross (aka cross country running with your dog).
There are several great picks out there, but if we had to choose one, it would be the TaoTronics Hands Free Leash. It even has conveniently-placed handles to get a bit more grip on your pups when you need it.
**
We hope in this list you've found at least a few gifts for dog lovers that you haven't seen before. If you're still stumped on getting the right gift for the pickiest dog owner in your circle, you can never go wrong with A Pup Above's home-cooked meals; the wholesome ingredients and pup-approved flavors will please both your canine and human friends. 
About The Author: Meg Marrs is the Founder of K9 of Mine, a dog care resource website helping owners better understand their four-legged companions.