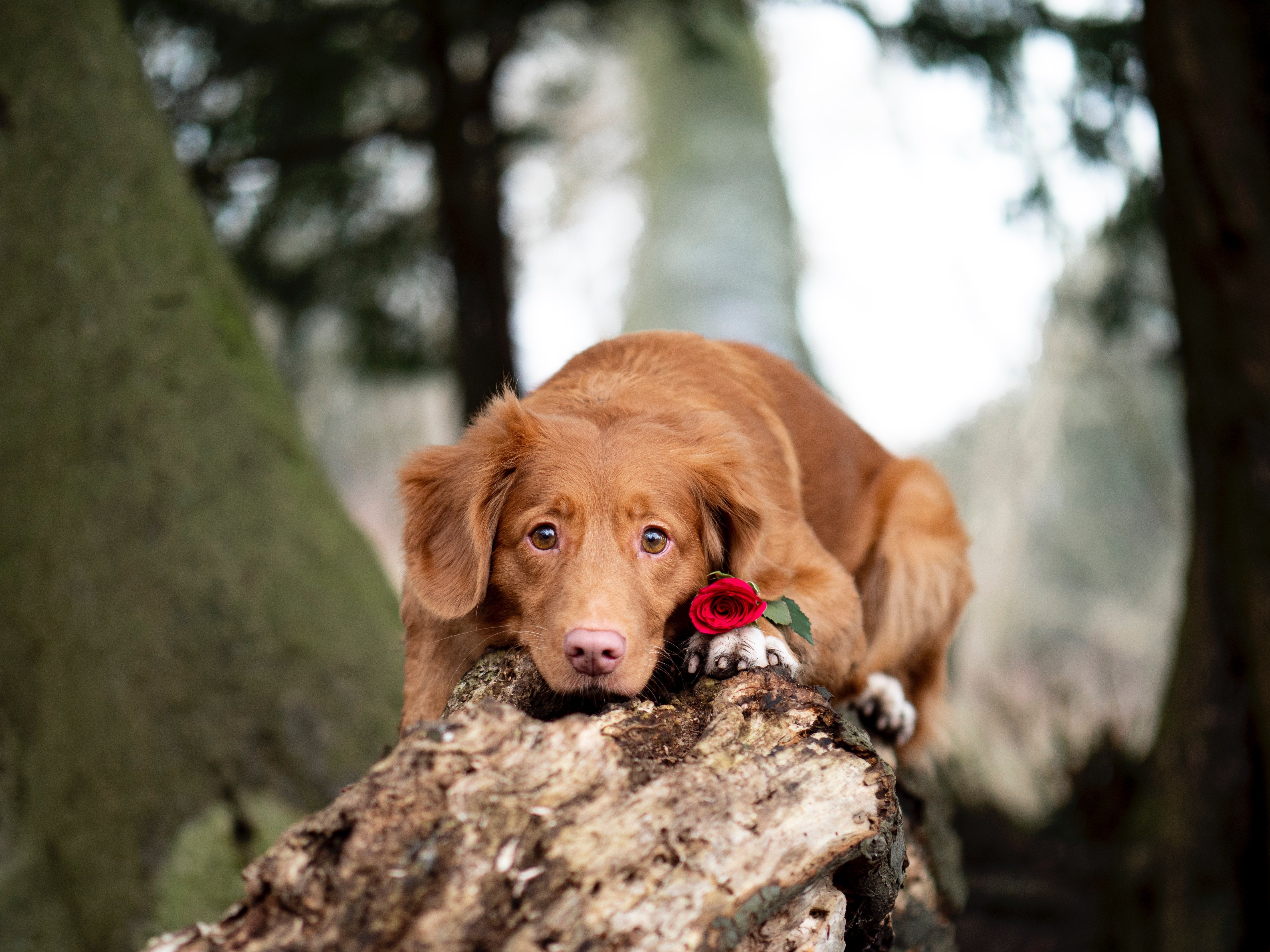 February 08, 2021
Best Valentine's date idea ever: your own dog
 Remember last Valentine's Day? It was back in the beforetimes, when getting together with friends, family, and folks you loved was a regular way of life.
For many of us, it's been a long, lonely year since. 
But even as we're staring down this Valentine's Day still in social-distancing mode, let's take a moment to celebrate the unconditional loves in our lives. You know, the ones who accept us — and our newfound preference for sweatpants — without question every single day. 
Who do we mean? Our dogs, of course!
All kidding aside, your dog may be your best Valentine's Day date idea ever. Science is real, and it has come out with sound evidence of something dog owners have known all along: the canine cuddlers we care about so much are some of the lovingest, healthiest relationships in our lives. 
So check out the facts, and get set to celebrate your best, slobbery sweetheart.
A new look at puppy love
Scientists used to say that because we take care of a beloved pup's need for food, water, shelter, and daily play that our dogs see us as important protectors in their pack and nothing more. It might look a lot like love, but scientists said nope. 
Now, new research says there may be love in the air after all. Clive Wynne, founder of the Canine Science Collaboratory at Arizona State University, has become convinced that dogs feel a genuine warmth and affection for their owners. Ergo, we may as well call it love, actually. 
Dog owners know that our pooches are big goofballs. Turns out that some doggy characteristics that in the past had been attributed to intelligence are really their gregarious and "hypersociable" nature — in other words, their capacity for love!
Turns out that oxytocin, the chemical that creates emotional bonds, spikes in dog brains when they stare into the eyes of that special human. And you know what it resembles? The activity seen in the brains of moms and babies when they gaze at each other. Scientific evidence of love! What better reason to make Valentines for the dogs in your life this year?
Dogs also have a gene mutation that in humans causes something called Williams syndrome. People with Williams syndrome — and apparently dogs, too — are exceptionally gregarious. Dogs, like people with Williams syndrome, have a strong drive to form warm personal relationships enabling them to love and be loved.
More love means more health
Science says love is good for human health. Not only that, puppy love may be one of the best kinds you can get. Studies show that quality time spent with your dog (Valentine's Day idea, anyone?) is great for physical and emotional wellbeing. Feeling skeptical? Check out these 5 proven benefits of dog ownership:
Celebrate your dog's unconditional love for Valentine's Day
Here's a new idea for celebrating Valentine's Day with your dog: plan a pawsome date with your favorite source of floppy, goofy, gregarious, unconditional love. Look for fun ways to thank your dog for the way they've helped you get through recent tough times.
You can also plan an extra special Valentine's Day dinner for your dog. Skip the kibble, and opt for a fresh, whole food formula like A Pup Above. They offer a handy sampler pack so your favorite canine can try out all the flavors — each is extra scrumptious for dogs due to a gentle cooking process that yields a natural, hydrating gravy. Plus, your dog's digestion will thank you for a break from over-processed dry foods. 
The next time someone asks why you you are willing to put up with all the work — and various shenanigans — that comes with responsible dog ownership, just tell them this: 
My dog loves me unconditionally, and that makes me a healthier, happier human. 
Happy Valentine's Day!